Aareal Next Level: setting the course for a successful future

In order to continue our success in the years to come, we announced the cornerstones for our medium-term strategic development in January 2020. Following the guiding principle of "Aareal Next Level", we defined the strategic thrusts for the period following "Aareal 2020". In the years to come, we want to fully unlock our potential in the operative business across the entire Group.
Successful implementation of Aareal 2020
Over the past four years, we have become stronger, more robust, more efficient, and more agile – a development that we can look back upon with a positive feeling. With Aareal Next Level, we will now take the next steps, whilst maintaining our general strategic orientation: large-sized international commercial property financing on the one hand, and our business with the European housing and commercial property industries (and related sectors) on the other.
The Group's success story: to be continued
Through Aareal Next Level, we will continue to develop our individual business activities in a targeted manner, and strengthen their own independent profiles, in order to accelerate the Group's overall growth and also create value for shareholders and other stakeholders in a market, competitive and regulatory environment holding ever-growing challenges – not only for our shareholders, but also for our workforce, our clients and society.
In line with the strategic orientation of sharpening the independent profiles of the individual business activities, segment reporting will also be adjusted, starting with the report for the first quarter of 2020, to comprise three segments (instead of two previously): Structured Property Financing, the Bank's business with the housing sector and related industries, and Aareon. Each segment will have a different focus, as shown in this chart: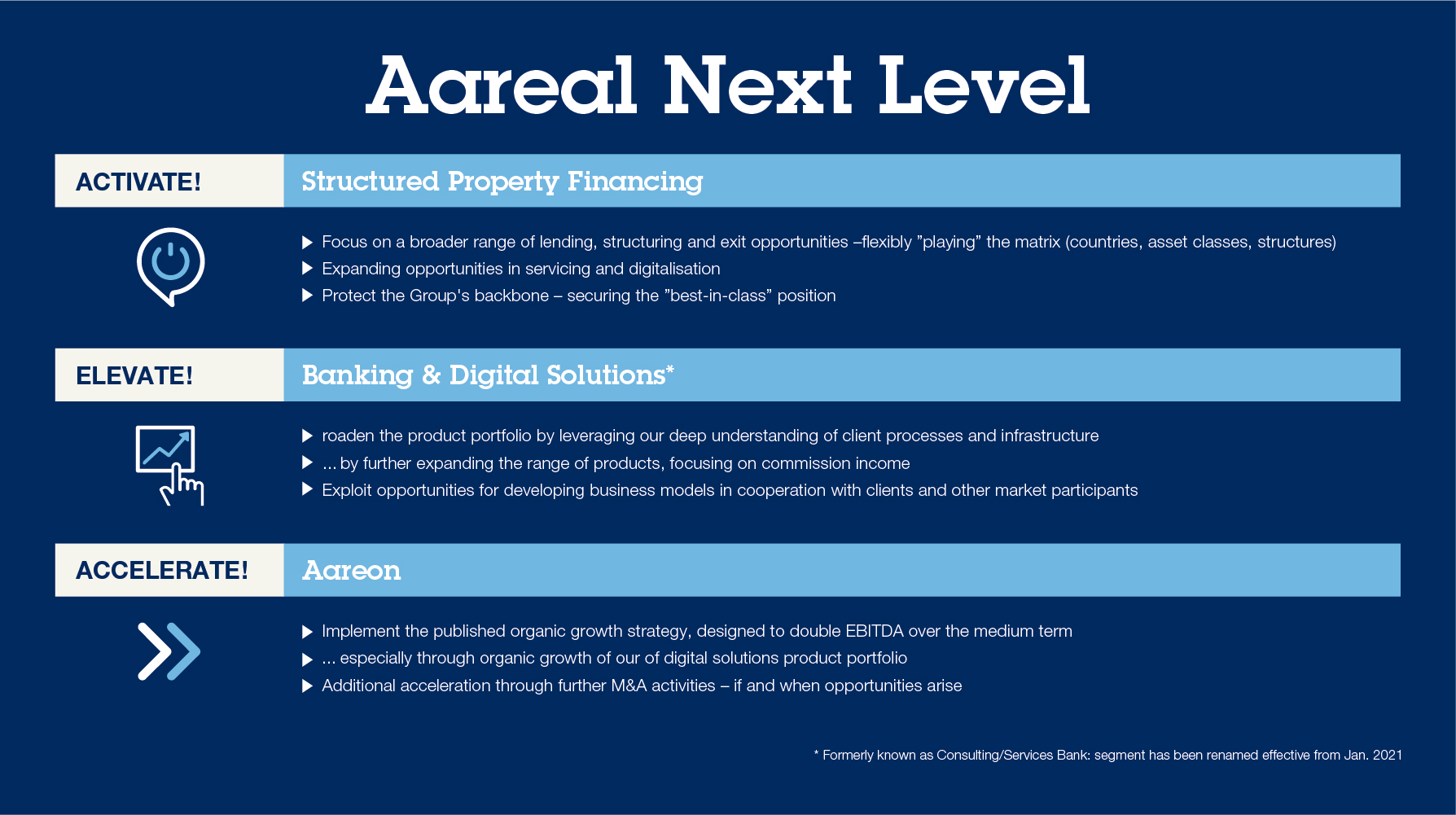 Aareal Next Level: the next steps
It is on this basis that the strategic cornerstones defined with "Aareal Next Level" will be gradually backed throughout the Group by additional measures and initiatives. Hermann J. Merkens, Chairman of the Management Board of Aareal Bank Group, agrees: "Through Aareal Next Level, we will raise our Company to a new level of development over the medium term. In doing so, we will not only open up new strategic options in the years ahead, but also develop considerable potential for operating growth. This will allow us to make even better use of the competitive advantages we have over pure financial institutions, thanks to our diversified business activities.
For more information on Aareal Next Level, our new strategic programme, please see our press release. Additional information can be found in the presentations for the Annual Press and Analysts' Conference 2020.