Non-financial Reports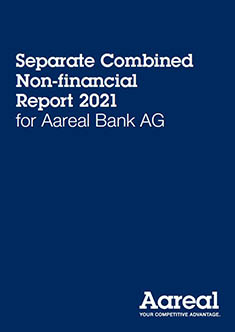 Separate Combined Non-financial Report 2020
Published on the Bank's website today, the 2020 Non-financial Report describes Aareal Bank Group's goals and policies for the five matters required by law (environmental matters, employee-related matters, social matters, respect for human rights and anti-corruption and bribery matters). The Non-financial Report was prepared on the basis of the requirements of the HGB. In addition, our description of the management approaches and the implementation of the materiality analysis is fundamentally based on the Global Reporting Initiative Standards ("GRI-referenced") and also takes into account the principles set out in the UN Global Compact and the UN Sustainable Development Goals. The content and structure of the chapters are based on the recommendations of the Task Force on Climate-Related Financial Disclosure (TCFD); in addition, we report selected key figures on operational resource efficiency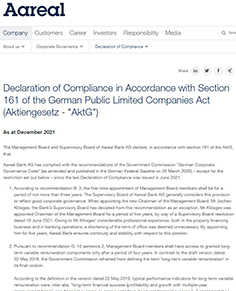 Declaration of compliance with the German Corporate Governance Code
As the parent of Aareal Bank Group, Aareal Bank AG expressly supports the objectives and aims of the German Corporate Governance Code ("the Code") and regularly observes the amendments and enhancements to the recommendations adopted by the government-appointed Commission on the German Corporate Governance Code. You can find information on the implementation of the Code in the current declaration of compliance in accordance with section 161 of the AktG.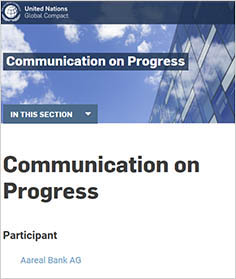 UN Global Compact Communication on Progress-Report
As a signatory to the UN Global Compact, we have published an annual Communication on Progress every year since 2012.
The Communication on Progress-Report shows how we are implementing the UN Global Compact's Ten Principles in the areas of human rights, labour, the environment and anti-corruption, and the key measures that we have launched.