Products
Added value for property managers
In order to provide you with effective and comprehensive support in your day-to-day business, we have developed a range of products ‒ not only for various tasks, but also for organisations of varying complexity.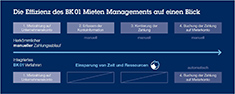 The BK01 procedure
Complicated, multi-stage work processes become automated electronic workflows with BK01, our integrated procedure that has led the field in the housing industry for decades. BK01 is continuously upgraded in conjunction with licensed ERP providers, and is closely interlinked with the processes of the relevant industry software.
The procedure is available to users of appropriate systems offered by our licensed BK01 partners, namely Aareon, SAP, Haufe, UTS and GAP.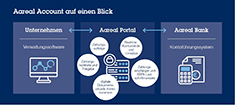 Aareal Account
Offering easy handling and full access to your Aareal Bank accounts, Aareal Account is a complete electronic banking package, with a family of products that works completely independently of the software used.
Aareal Account itself is a modern electronic banking tool that offers all the advantages of Aareal Bank's account management service, helps to improve the efficiency of your processes using virtual account numbers, and can be operated intuitively.Chart (in German)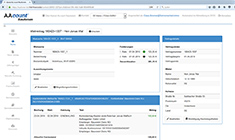 Aareal Account Tenancy Bonds
Aareal Account Kautionen (tenancy bonds) is a specialist web-based tenancy bond management system plus an independent stand-alone product, and is compatible with your other software landscape. It offers process-oriented, electronic tenancy bond management with numerous labour-saving workflows, from the automatic allocation of a tenancy bond to the correct tenancy agreement through to interest calculation.
In Aareal Account Kautionen, you have the option of placing your tenancy bond deposits in both collective and individual trust accounts.
Further information (in German)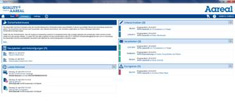 Aareal Kom
Clear, intuitive and efficient, Aareal Kom is the communication interface of the Aareal Bank payment transaction procedure. All the relevant information is already contained on the start page and grouped into subject areas, including options to release available or overdue payments, or view the most recent activities.
Demo Aareal Kom (in German) - (zip-Datei - bitte herunterladen, entpacken und das Programm "starter.exe" ausführen; ca. 32 MB)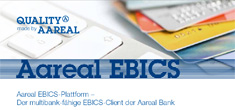 Aareal EBICS platform
Aareal Bank's second electronic banking solution is a supplementary, multi-bank enabled platform based on the EBICS standard. It provides you with secure access to all your accounts via the Internet ‒ using a single means of authentication only.